CRM, Customer Relationship Management, refers to the tools used by enterprises for managing a company's relationships and interactions with new and existing customers.
The right CRM solution will allow you to better understand your customers and engage with them, as well as to empower your people and increase their productivity, optimize your operations, and transform your products and services based on your customers' demands.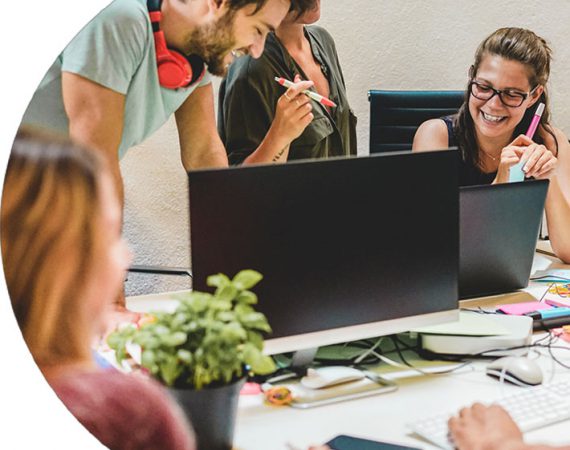 Why adopt a CRM strategy?  
Simplify and streamline the majority of complex customer interaction processes and increase customer satisfaction.
A single point of reference CRM will help you gather all available data, analyze them with AI & ML tools and make more efficient decisions.
With almost 40% of the CRM solutions failing to live up to their promises, Pobuca will be your CRM expert to target your desired outcomes, by offering turn-key solutions across the CRM ecosystem, on sales & marketing automation, customer service,  productivity tools, and business intelligence.​
We have the business knowledge combined with technical expertise to build your CRM to empower everyday users while providing insights that will help the management team to take decisions and convert them to actions.
Pobuca will be your single point of truth for your customer and sales data, the CRM tool that you will use the most in order to increase revenues and customer satisfaction.
Our business experts will guide you with your CRM strategy to become more productive, automate your day-to-day customer-related tasks and gain revenue streamline insights.
Our team of experts will help you build a CRM system of value, being also user-friendly and avoiding the typical failures of GIGO (Garbage In, Garbage Out).
To implement your CRM strategy, we help you first understand the CRM cycle which can be divided into 5 areas:
Using CRM, organizations can move beyond disconnected data to gain real, measurable business value.
Automate processes regarding prospecting and engagement.
Boost the productivity and performance of the sales teams.
Empower employees to exceed customer expectations.
Increasing sales revenue and profitability.
Decrease time to quota & get higher conversions.
 
A CRM platform can increase customer acquisition & retention. Marketers can conduct successful:​
Lead-nurturing processes to personalize each customer's journey.
Multi-channel campaigns to attract the right prospects. 
AI-driven insights such as lead scoring, segmentation, and churn prediction.
Events, using a wide array of user-friendly tools​ including registration and attendance tracking from an events portal.
 
The base of a successful CRM system, we can help you optimize your people's productivity.
Orchestrate the internal messaging collaboration.
Make internal and external video meetings.
Adopt central document management.
Take and share notes.
Access, manage and share your business contacts.
A CRM will be the right tool to track customer service requests on time and offer personalized support.
Empower your people by delivering the right tools to your teams so that they can deliver prompt, accurate, and consistent service to the customers you support.
Offer personalized service and we make sure that all the data is used to create an enhanced, personalized experience that will make the customers feel truly valued by your organization.
Have a unified infrastructure that breaks down organizational and data silos and flows consistently and effortlessly throughout the entire organization.
CRM insights and Business intelligence give huge value to a company's management teams to make better decisions & accelerate performance.
Improve marketing performance with AI-driven insights, lead scoring, custom dashboards, and gain insights for trends across channels.
Empower Sales managers with data-driven insights and measure customer service agents' performance.
Give managers a deeper understanding of the business and where to focus their coaching efforts via pipeline & forecast analysis, deal insights, relationship analytics, and conversation intelligence.