CX solutions for CX leaders
Measure, design, and
improve your CX strategy
The desire to know what your customers think of your company and products hasn't changed, but how we capture and analyze the information to understand customers has. Signup to Pobuca Experience Cloud and start measuring CX beyond surveys, by AI-listening to your customers.
The rise of predictive analytics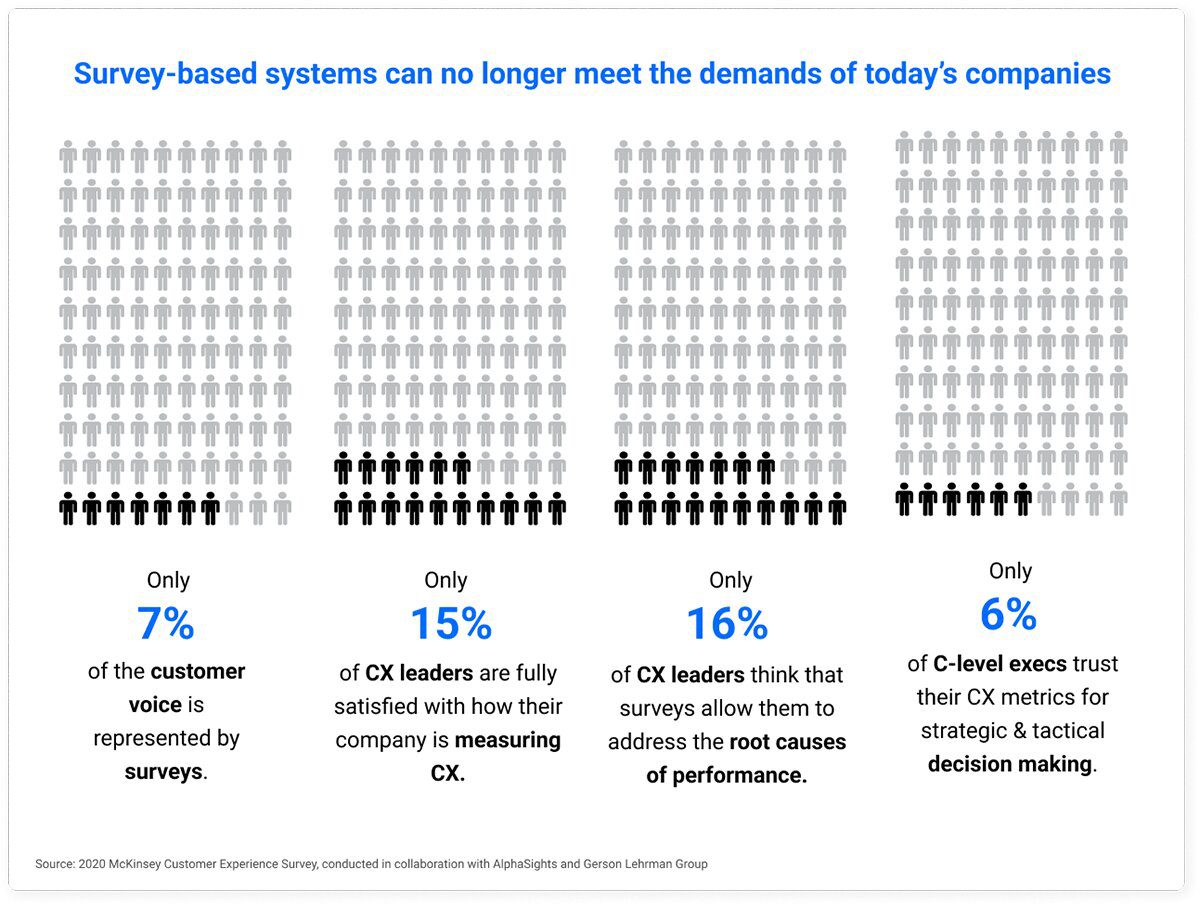 According to Gartner, CX metrics & KPIs and Voice of Customer insights are the top-2 project priorities for CX leaders. No surprise here, as you can't improve what you don't measure. However, according to a McKinsey study, 93% of CX leaders are using survey-based metrics, while only 15% of them said they were fully satisfied with how their company was measuring CX, and only 6% expressed confidence that their measurement system enables both strategic and tactical decision making.
Which brings us to the question of surveys: can they provide the depth of understanding and insight that companies need into their customers' experiences? No, as surveys as the sole or main means of measuring CX fall short: they represent only a small percent of your customer's voice (7%), they're out-of-step with the real-time needs of organizations, don't get to the root problems and it's difficult to tie survey scores to real-world CX initiatives.
Unstructured Customer Feedback
The reality is that companies are awash in customer feedback. Every call recording, chat log, and email into the Contact Center is filled with information about the Customer Experience, including the way those experiences make the customer feel. Similarly, customers are putting their feelings about their experiences on social media and in product reviews. Historically, however, these sources of customer feedback have been wasted, because it takes a lot of time and energy to manually read them and come up with trends and patterns. Artificial Intelligence (AI) is opening new and cheaper ways to analyze the customer experience by "listening" to what customers say.
AI-Powered Voice & Text Analytics
Advances in AI-powered text analytics like Natural Language Understanding and emotion analysis allow CX organizations to mine unstructured customer feedback. By pairing the structured and unstructured forms of customer experience data together in your analysis, you've got all the ingredients you need to understand what's driving your customers' interactions with your brand:
• CX & Loyalty metrics
• Voice of Customer insights
• Evaluate Customer Service
• Segment your customers
• Pair AI-powered analytics with surveys
Target your efforts on what matters
Now that you know where you stand with your CX, it's time to improve it. With Pobuca Experience Cloud you can be laser-focused on what matters the most for your business, design your strategy and then use technology to improve CX at every touchpoint. You will get immediate and individual signals to take action "in the moment" and to create relevant experiences for each customer, while you will be demonstrated which experience enhancements will result in positive ROI.