Black Friday 2020; survival of the fittest or CX's time to evolve?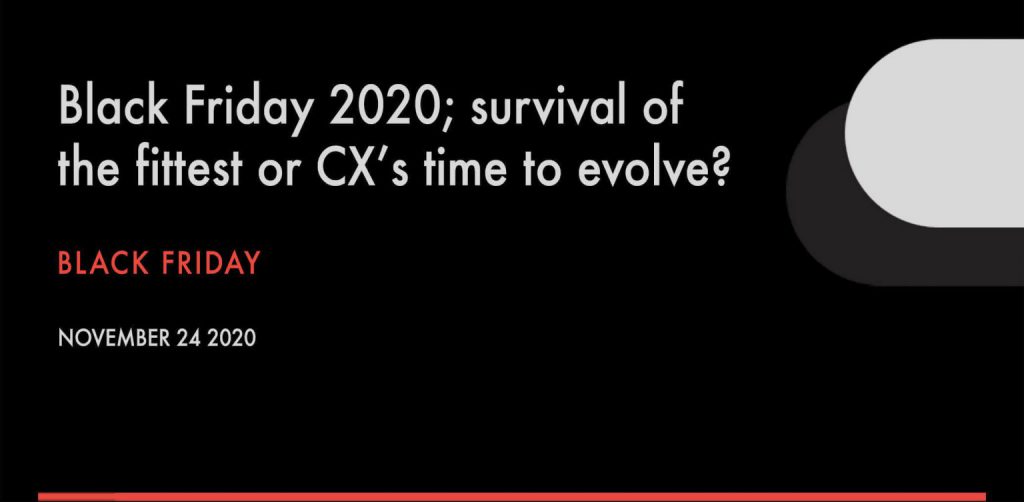 Yes, Black Friday is definitely about sales and seeing these numbers grow, but does this really tell the whole story? Surely, keeping your focus on the best deals and bigger profits is the idea, but there is also an underlying challenge, not to be left unnoticed.
It's how to turn this marketing extravaganza into an elevated Customer Experience (CX) to build an ongoing relationship with the customers. 
Other than the fierce fight for Covid-19 survival, it's the post-Covid-19 growth that's really at stake here, with Black Friday being a chance for consumers to check new brands, products, and ways to shop, and for brands to shift their strategy to customer-centricity.
Brands that will manage to turn their operational weaknesses into strategic strengths through innovation, while regarding people more important than the product, would more than likely get more out of Black Friday, than just a one-weekend spike in sales.
So, there are two things here to strike a balance between, selling more and keeping your customers happy.
And one thing is for sure, one can most probably survive the absence of Black Friday's sell spike, but will be hard to cope with the aftermath of a frustrating week for customers. Because unsatisfied customers are notoriously known as non-returning customers.
How to create a holistic Customer Experience
Here's your checklist to help you shape a holistic customer experience and stand out from the crowd, getting those numbers while keeping your people happy.
Be Prepared: Take extra staff, upgrade your infrastructure to handle the extra traffic, and check your payment systems. And always have a Plan B.
Delive: Be true to your Black Friday promises, the net has a very long memory and the negative effects of not following through on your promise can haunt your brand.
Be insightful: Turn traffic into data, exploit your customers' database's full potential on your customers' buying behavior and attitudes towards your products or services.
Be trustworthy: With many offline customers turning online, now is the time to showcase your level of safety; add additional layers of authentication and offer well-trusted payment methods, and don't be shy to make the claim.
Stay omnichannel, with a twist: Providing a seamless and consistent single point of communication, mastering every omnichannel interaction, and handling all levels of complexity to seamlessly pick up and route conversations across channels is surely the key. The real differentiator though would be to be able to switch between channels to meet surging customer volumes at any point of the journey, making it easy for shoppers to get fast answers to their questions by enabling conversations anytime, anywhere, on any device. 
Bring AI to the rescue: Using AI to leverage analytics and insights, can be a winning factor. Either through AI bots or even as an assistant to CS agents, AI can be the differentiating factor to get you through these times; staying human while becoming at the same time quicker and more efficient is the new equation to be solved.
Think as one: Throw numerous campaigns to see what sticks will not do the trick anymore; segmentation, good targeting, and creativity should be the aim here and there is no better way to do it than bringing the right people in your organization together 
Take the journey: Think like a customer and assess the pain points in the customer journey as well as possible. Start by planning to eliminate or mitigate the causes of negative experiences that can be turned into positive experiences, and in turn, trigger an emotional connection. Where might feelings of stress, confusion, anxiety, and frustration emerge during the customer journey that can be preemptively solved?
Become more than a brand: Consumers want to shop with companies with a sense of purpose and organizations with a greater impact. In the wake of COVID-19, many high-profile brands showed their support to the National Health Service; shaping your narrative doesn't require a massive budget, you will only have to make sure that it can evolve while staying aligned with your values.
Find the right partner: Focus on your core strengths and let a partner handle the rest. At a time when all retailers are fighting for survival, standing out requires an even greater focus on the end-to-end, digital-first customer experience; working with an outsource partner that can fill those gaps provides numerous cost and innovation benefits while improving a brand's customer experience.
Black Friday 2020 brings digitalization to unprecedented heights. A strong omnichannel strategy and technology that brings out your best is the key, not only to survive this through but also to evolve and spearhead your brand ahead of the post-Covid-19 era.
 So, challenge accepted!