CX Day and 8 + 8 tips on how to keep celebrating for the years to come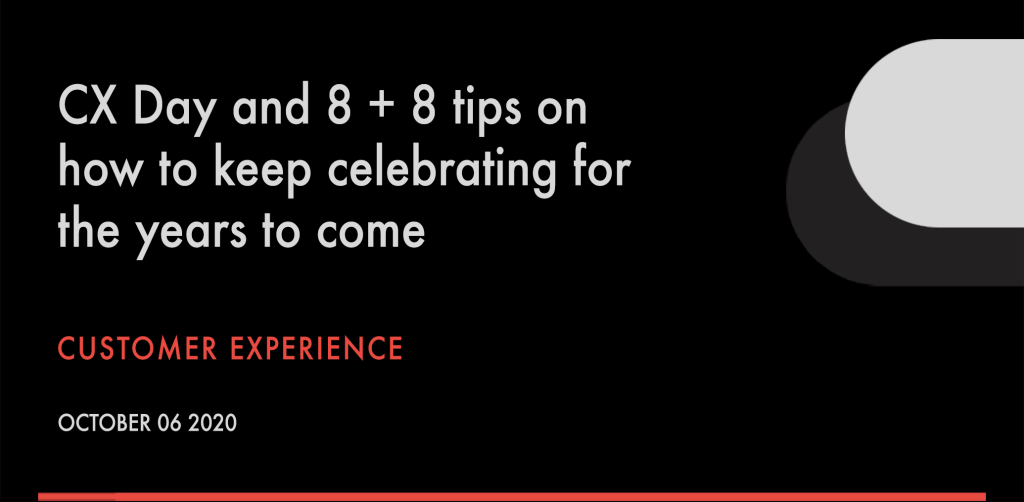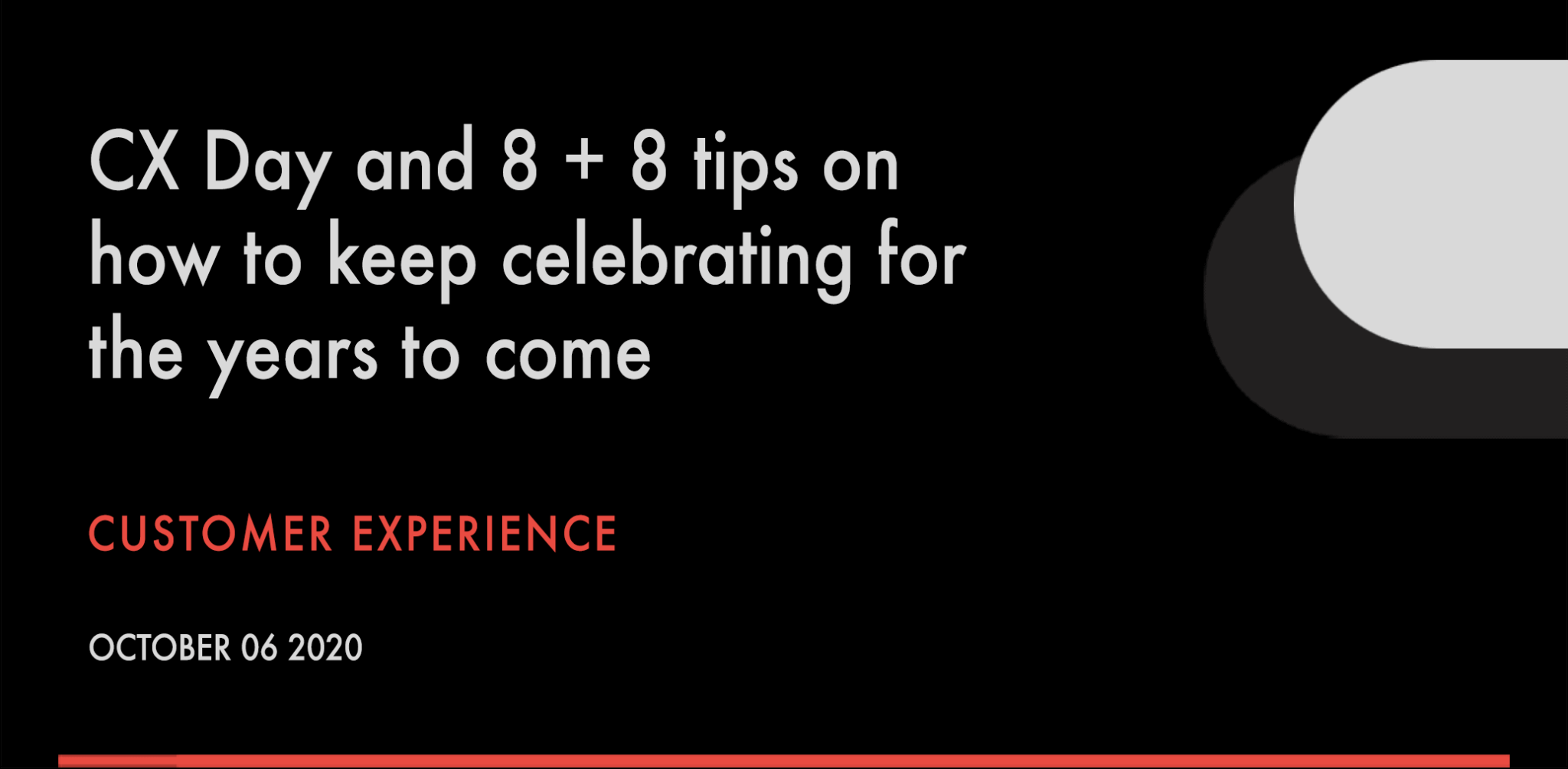 On the first Tuesday in October, the CX community celebrates CX day as an opportunity to acknowledge great customer experience work, discover professional CX development opportunities, and strengthen professional networks. And this is how CX Day 2020 looks at a glance.
12:00 Midnight: CX Day Celebrations Kick-off Around the World
11:00 AM ET: Virtual Community Conversation: Taking Control of Your CX Career – Finding Your Purpose and Blazing Your Path
12:00 PM ET: Impact Awards Winners Live Reveal
2:00 PM ET: Virtual Community Conversation: Strengthened by Fire: CX Lessons Learned During a Pandemic
4:00 PM ET: Virtual Community Conversation: The Best of Both Worlds – The Role of Augmented Intelligence in CX Transformation
So if you feel like this day is for you too, happy CX day and let the celebrations begin for all of us out there doing our very best to keeping our customers happy.
Let's wear those "I ♡ Customers" t-shirts and crazy hats and maybe check a few tips below to make CX Day memorable:
Hang CX posters Buy a big cake and make a CX Day meeting offer CX Swag – Banners, Balloons, Stickers, Buttons, Shirts
Recognize internal employees for demonstrating customer excellence, i.e. most improved NPS score year over year
Send your customers to thank you notes and token gifts of appreciation
Encourage employees to join webinars on CX Day. Examples

 

here

 and attend local events in their area.
Conduct fireside chats with customers or CX experts or CX initiatives
Provide CX Training and Encourage employees to join webinars on CX Day. 
Highlight amazing employees. If you conduct customer surveys, share them at team meetings, especially ones where customers rave about employees by name.
Create a CEO video email message thanking employees for creating passionate promoters
Your 8 CX tips
Now, let's check some great CX tips below to keep celebrating any other day like today, offering great customer experiences:
Know your customers and listen carefully to what they say

To know your customers is to know your business, it's as simple as that. Keep all channels open and collect customer feedback on the things you do right or not so right. 

Work with your feedback 

 Customers have given you their inputs, end of the job, right? No. Actually, this is where it all starts, to find the intelligence and the right tools to make something out of it and turn it to great ideas and tangible improvements in the way you do business. Create unified customer profiles based on all stages of the customer journey and consolidate diverse deep data into a single customer view.

Make the journey easy for them

Be one of these brands that offer an effortless customer journey and you could win their hearts.

Boost engagement 

Target the right customer with the right message at the right time

via personalized campaigns and preferred channels.

Create seamless experiences across channels 

Invest more resources into not just tools that help activate customer data across various marketing channels, but to deliver a seamless customer experience across them. 

Find the right solution for your customers' needs  

How does your product or service stand out? Remember, competitors can mimic your price, availability, and distribution channel but they cannot mimic the experience and/or the feeling your customers have when interacting with your brand.

Be thoughtful and reward them 

Keep in touch and reach out for their needs or for some new tips on the best use of your product or service, or give incentives and most importantly, thank them regularly for being your loyal customers!

Appreciate your employees as your own customers

Happy employees are more productive employees and can make your customers happy too.
So, how will you celebrate CX Day 2020? Share with us your stories; comment below on how you will celebrate the day!