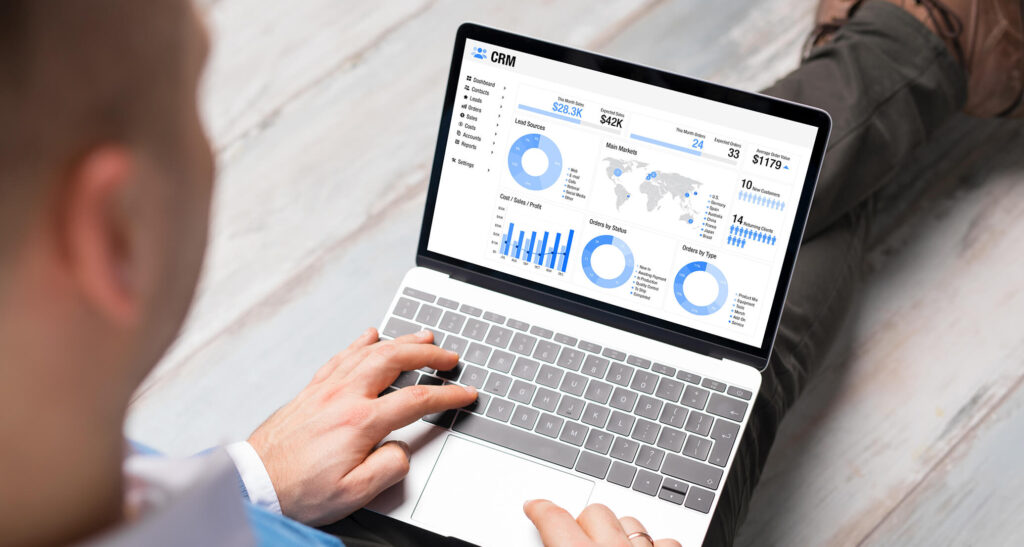 CRM refers to the software that is used by enterprises with all customer interactions for developing, retaining, and acquiring customers. It gathers and digitizes customer data from multiple channels. A CRM system mission is to help organizations build customer relationships and streamline processes.
CRM scope
The overall scope of CRM is to give organizations all the right tools to achieve better interconnections, hence relationships, with their customers, colleagues, and suppliers. A CRM system can be integrated within an organization to serve 3 different, yet complementary missions:
Technology: A technology solution/product, often in the cloud, that stores, reports and assesses interactions between the organization and its customers.
Strategy: A platform that is intended to reposition and guide the business' strategy on how an organization will achieve better, more insightful relationships with existing and potential customers.
Process: A system that is integrated within the workflows of an organization to improve efficiency and communication, enhance synergies between diverse teams.
CRM key functionalities
tracks and stores customer information such as email, personal data, social media accounts, etc,
retrieves information, such as company's activity and customer personal preferences and
assesses that information to provide a 360° view of an organization's customers and suppliers and companies, so you can better understand your relationship over time.
Why is CRM important?
CRM is the tool that enables a more insightful relationship with an organization's customers, partners, and suppliers.
Forging good relationships and keeping track of prospects and customers is crucial for customer acquisition and retention, which is at the heart of a CRM's function.
Provides a single point of view through a simple, customizable dashboard containing customer history, order status, customer service issues, and more.
How do different business functions benefit from using CRM?
While the importance of CRM has traditionally been as a sales and marketing tool, some of the biggest gains can come in other areas, such as customer service, HR, supply chain, and partner management.
CRM benefits across different business functions:
Sales teams can use CRM to understand their sales pipeline better.
Sales managers can gain access to reliable information about the progress of individual team members in achieving their sales targets.
Sales reps benefit from reduced admin, a deeper understanding of their clients, and the opportunity to spend more time selling and less time inputting data.
Marketing teams can use CRM to make forecasting simpler and more accurate, have clear visibility over every opportunity or lead, and map out the whole customer journey from inquiry through to sale, also including information from customers' public social media activity and their sentiment about specific brands and businesses.
Customer service teams can benefit from CRM as a common platform for customer interactions that effectively tracks conversations seamlessly across channels.
Supply chain, procurement, and partner management teams can manage relationships better by tracking meetings with suppliers and partners, recording requests made and adding useful notes, schedule follow-ups, and stay on top of expected next steps.
The HR team can use CRM to accelerate the recruitment process and track employee performance.
What are the benefits of CRM?
CRM offers many benefits and advantages, including:
enhanced contact management,
cross-team collaboration,
heightened productivity,
empowered sales management,
accurate sales forecasting,
reliable reporting,
improved sales metrics,
increased customer satisfaction and retention,
boosted marketing ROI, and
enriched products and services.
In a nutshell, a CRM platform lets you manage data streams of information across channels without losing track, giving sales, service, marketing, and beyond an integrated view, boosting collaboration, enhancing productivity.