Working from home - a ''stay in shape and be productive'' roadmap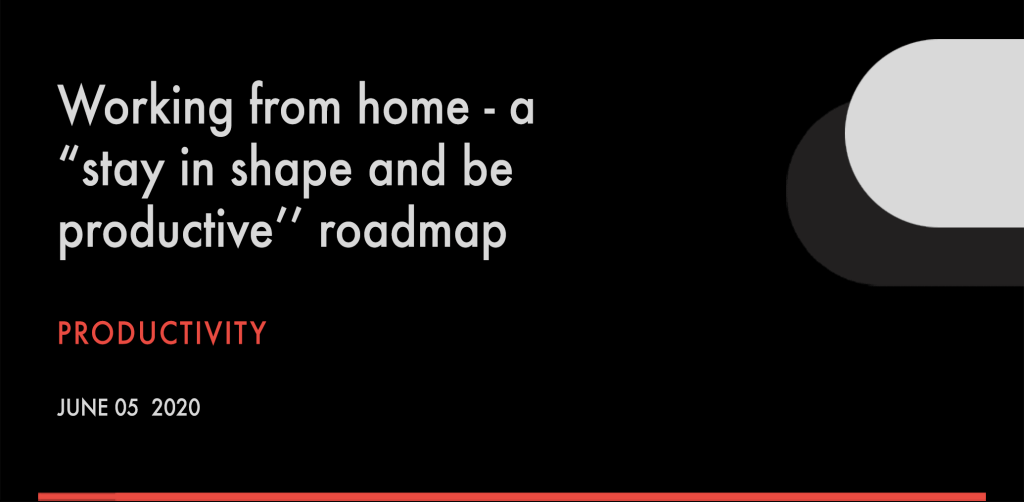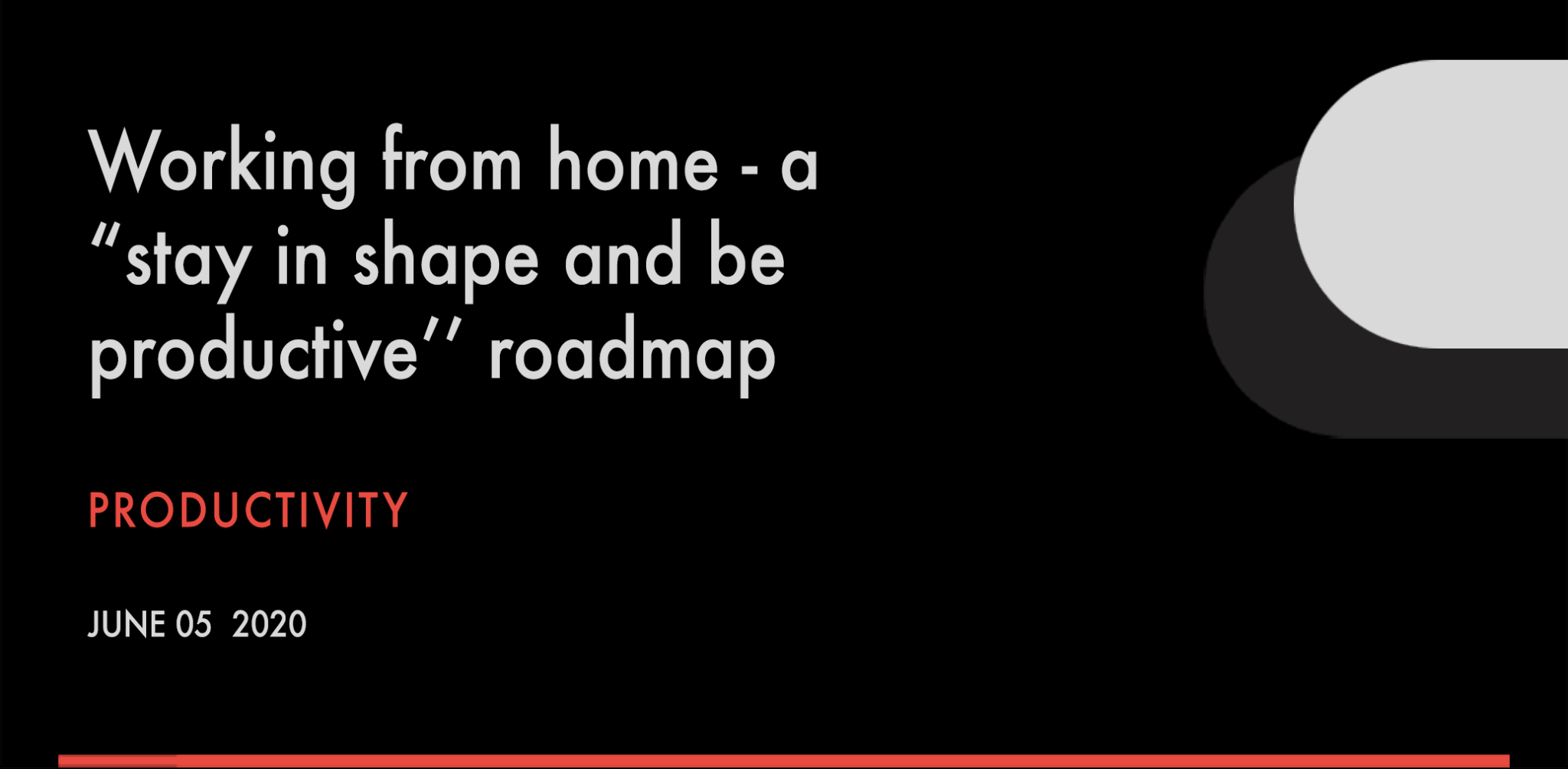 With the coronavirus pandemic raging around the world, social distancing is here for good and remote working is one of its great assets against the Covid19 pandemic, minimizing the chances for the virus to be caught during a commute or in communal office spaces.
Working from home – a ''stay in shape and be productive'' roadmap
As millions of people are suddenly finding themselves working from home, this is beyond doubt for many a tipping point that is set up to accelerate the remote working trend.
Before taking advantage of the actual benefits of changing your working habits into remote working patterns, you will have to address the mental challenges for such an abrupt shift in your working culture and exploring at the same time the best practices for remote team management.
So, for those who might find themselves at home for an extended period, here are a few things that you can do to keep yourself in great shape and productive:
Keep those precious boundaries.
Don't turn your home into an office, only dedicate a specific space to it that could be your room, a nice corner in the living room, or the dining table. Make sure it will be as sunny as possible, to maximize natural daylight, set-up your office stuff, buy yourself a nice office plant and turn your back to the rest; remember, this is your office and it doesn't have to do anything with the rest of your home. If this is a tall order for you and you can't find this dedicated office space, make sure you clear the space of any 'office' items at the end of the day to reset it to your ''home status''.
Get dressed for the office.
Avoid the work-life grey zone, by resisting the temptation to stay in loungewear and dress as if you were going into the office.
Be realistic.
Don't become over-ambitious; working from home won't give you any superpowers, or at least any more than the ones you already had.  Pick three to five things to do and aim to get the majority done before lunch; as we all slow down in the mid-afternoon, having a lot of your list under your belt will give you the right momentum to power through.
Work in bursts. 
As a typical office day is broken up by meetings, small chats, lunch breaks, and even toilet breaks, try to reproduce this pattern at home, by working in 45-60 minute chunks of focused work followed by a short break. This will break the day up and will help you maintain your concentration levels.
Be sociable.
Socialize with your friends and colleagues within the day and try to call them instead of chatting or messaging.
Open your windows.
Make sure that you are opening a window from time to time; this will revitalize the atmosphere and clear your environment.
Think ergonomically.
Buy yourself a good desk chair and if you can't afford it make sure you create a soft, comfortable seat that you pull right into the desk. Don't forget to set your screen at your eye line or put your laptop on top of a pile of coffee table books to elevate the screen.
Exercise.
Take care of yourself and keep moving, whether it's exercise or a daily walk, even 15-30 minutes can make a difference.
Now let's have a look at the essential collaboration tools that will help you stay in contact, be productive, and grow professionally:
Team communication.
Communication is key and as you cannot drop by any of your colleagues, you will need to find another way to stay in touch; Slack, Microsoft Teams Google Handouts are some of the collaboration platforms that can be used for chat, video calling, file sharing and integrations with other remote working tools like Google Calendar and Jira.
Keep in touch.
If you are looking for a cloud contact management tool to help you stay connected  with your contacts and sustain your business efficiency on high standards with a 360 access to your business address book, Pobuca Connect can be the right choice to share your contacts with your co-workers and partners and convert your multiple business contact lists into one unified address book, easy to access from everywhere with many benefits, such as:
Separate personal from business contacts management, keeping a neat business address book
360 access from all devices, while you can use the mobile app even offline to have easy and quick access to your contacts.
Easy integration with your business software or cloud solution (O365, CRM, email marketing tools, Single Sign-on solutions, etc)
Set reminders to communicate with any of your contacts.
Scan business cards in a few seconds to create business contact and share them with your coworkers.
Project management.
Managing your team's tasks and coordinating responsibilities remotely can be challenging when working from home, but the remote work tools for productivity are here to the rescue. Jira is a project management platform designed for agile development in particular that also offers the Trello app for Kanban-based productivity if you're looking for a lighter task management tool to manage your work or projects in smaller teams. Other tools for project management are Asana, AirTable, and of course Microsoft Project, that you could make more agile by integrating the project file with SharePoint or Nintex workflow and customize automatic triggers.
Time management.
This is crucial when you're away from the office and time management tools will keep you productive and on task both on your own and as a team. Google Calendar or Microsoft Team Calendar is a great time management tool for keeping your schedule straight and coordinating with teams and customers for meetings, work sessions, vacation coverage, etc.
File sharing.
You will always need to be able to find and share a file safely and simply whether you're working from home or an office. Google Drive is an online service for storing and sharing digital files. It's a useful tool in any case but especially if you're also using other Google products like Docs, Gmail, etc. Google Drive can also be used to save and work with files from other systems like Microsoft and Apple. Other tools for file sharing are Box, Dropbox OneDrive, SpiderOak