Pobuca takes you to the Loyalty Marketplace Era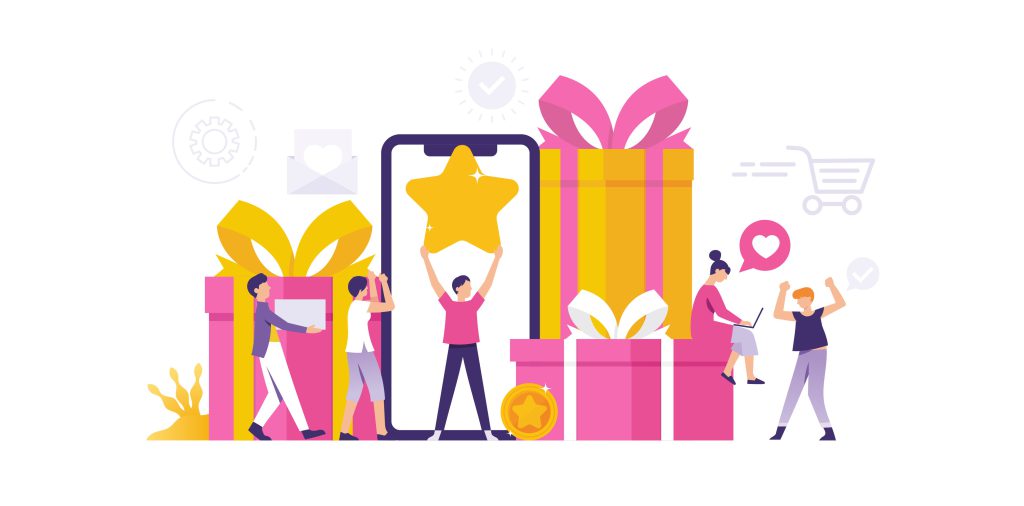 It is no secret that we are moving past the time where a single platform selling a single range would be a customer's first choice; marketplaces are becoming the next big thing, as the umbrella platforms that are offering customers a ''shopping mall''-like experience that is hard to stay indifferent against, where each customer can shop within the same platform an abundance of products and services that cover a vast majority of a consumer's needs.
 And it's certainly, also no secret that Loyalty programs remain one of the best ways to build and maintain long-term relationships with customers and one of the key driving forces behind business continuity and success in this new marketplace era. 
What is Marketplace Loyalty?
Marketplace Loyalty programs can take Loyalty schemes to the next level, as they create a community for customers and unify the commerce experience for them.
Adding Loyalty to the equation turns marketplaces into the actual facilitators of a community that cares for its loyal customers, as well as its sellers, that can use this Loyalty scheme as their own or even as an add-on to their existing in-house Loyalty programs, encouraging their return business while providing access to richer customer data. 
The benefits behind the adoption of a marketplace Loyalty program
Let's now have a look at the most distinct benefits that marketplace Loyalty programs bring to brands and organizations:
An acquisition tool for partners and sellers:

as 3 out of 4 customers prefer brands that provide incentives and rewards, it is quite straightforward that Loyalty programs attract more customers. With resellers and third-party vendors not having their loyalty programs, marketplace Loyalty programs give them the right acquisition tool; additionally, in the case that they have their Loyalty programs, they can add on the marketplace Loyalty program with their programs to attract new customers and provide them with better offers and deals.
A Loyalty program for partners and sellers to stay loyal:

for many businesses, a majority of sales come from third-party sellers. Let's take the example of the world's largest online e-tailer Amazon. Third-party sellers account for over half of its total sales. In such a case, it's crucial to find innovative ways to incentivize partners and sellers to stay loyal. Enhancing Loyalty programs is the smartest and the most natural way to incentivize sellers. In the case of Amazon, the e-commerce behemoth has devised a special Loyalty program for its sellers, known as Seller Rewards Program. It provides its sellers with the opportunity to win rewards for their efforts and Loyalty.
Building a community:

by creating high-quality programs, businesses can engage with community members and build robust relationships with customers, providing them with an exceptional shopping experience. Communities are known to have many positive impacts on businesses, with nearly 60 % of communities having a positive impact on business goals and 74% directly impacting culture and brand.
Gaining valuable customer insights:

By using marketplace Loyalty programs, businesses can understand customer behavior, buying preferences, brand preferences, and trends across a wide range of categories. Businesses that have access to accurate insights can track their customer behaviors and make highly relevant and tailored recommendations.
What do successful marketplace Loyalty programs have in common?
Going beyond the individual success behind these marketplace Loyalty programs, let's now identify the common patterns between them.
Promote the business's offerings
First and foremost, marketplace Loyalty programs are designed to promote the full brand offering and present it to the audience in a compelling way. Customers can experience the entire product/service range through the Loyalty program. They can get personalized offers before their eyes, and this encourages them to buy in exchange for points and rewards.
Use cutting-edge technologies and features
Besides, the discussed marketplace Loyalty programs use modern technologies, such as dedicated mobile apps and physical/digital cards, to make point collection easy and convenient. The goal is to make the rewards system and Loyalty programs as accessible as possible to the customer.
Provide tiered incentives and rewards
The final point is that the presented marketplace Loyalty programs provide a diverse and tiered range of benefits. Loyalty program managers make every effort to ensure that their programs are attractive and valuable. They focus on making the purchasing process seamless and select those Loyalty program benefits that extend the customer journey or improve the customer experience.
Marketplace Loyalty programs such as Pobuca Loyalty Marketplace can be the real game-changer, maximizing the lifetime value of every customer and increasing customer engagement by giving customers and sellers  rewarding options that better match their personalized preferences, helping businesses to keep ahead of the competition by:
improving brand visibility – everywhere your customers shop – collaborate with partners in new strategic locations and markets and stay present in your customer's minds,
decreasing customer acquisition and retention costs – synergize with other brands to allow their members to join your Loyalty program,
accelerating earn velocity – stimulate higher frequency and larger basket sizes- give customers the choice of earning the points they want, and the ability to exchange for something of emotional interest,
enhancing the customer 360° view – understand customers' behavior with your brand and with other brands, capture more customer data and discover new insights, obtain data from partners about customer frequency or products purchased to reveal lifestyle preferences,
becoming a "Loyalty hub" in your customers' minds – making them feel that when they buy more from your business, they will be rewarded in a broader area of brands that are related to your core offering.
How does Pobuca Loyalty Marketplace work?
A marketplace Loyalty program, such as Pobuca's can offer a unique Customer Experience, by increasing customer engagement by allowing your loyal customers to redeem their points for the reward of their choice, involving at the same time other partners in the reward system, alongside customers, offering them participation in special events, exclusive services, discounts, exchange of Loyalty currencies with other brands, and other actions throughout the customer journey.
More specifically, Pobuca Loyalty Marketplace, creates a separate reward system for both customers and sellers, offering an online reward marketplace and in-store experiences where customers could:
exchange Loyalty points, redeeming their points to 3rd party brands.
gain personalized gift cards, by receiving tailor-made ones to their preferences gifts.
redeem options of local or international experiences, through a variety of options like sports events, travels, etc.
offer your customer virtual currency in a digital wallet to be used for purchases to a partner's network
And what's in it for the customer?
There is a higher opportunity to earn rewards for consumers who participate in the marketplace Loyalty program systematically, as the benefits of using multiple partner brands across the network multiply.
With Customer Experience being more important than ever in 2021, as 34% of customers will stop interacting with companies or brands after a bad experience, Coalition Loyalty programs can provide the platform to build that exceptional customer experience. 
When Loyalty programs are integrated into a marketplace solution offering, the benefits are all-embracing. The marketplace owner ultimately benefits by becoming the facilitator of a community that cares for its loyal customer and its sellers, encouraging their return business and providing access to richer customer data.
How Pobuca Loyalty Marketplace addresses your needs
Pobuca Loyalty Marketplace aspires to empower businesses with a wide network of channels and means of redeeming Loyalty points, leveraging Pobuca's large customer network. The aim is also to address the critical issue of unused redemption points, allowing businesses to benefit from a multi-level network of affiliations, through which Loyalty program reward points will be redeemed or exchanged, strengthening, even more, the relationship of customers with their trusted brands.
With research findings confirming that Loyalty program members who have recently redeemed points have x2.5 higher levels of satisfaction than members who have never used their points, Pobuca Loyalty Marketplace has arrived to offer the following new features to businesses:
Exchange of points and members: allows businesses (exclusive or non-Pobuca partners) to create partnerships with complementary Loyalty programs, offering their customers the possibility to join them and redeem points.
Access to gift catalog: customers are allowed to redeem points on selected gifts from a rich catalog or participate in contests.
Points redemption in cash: customers have the option to convert their points into cash through a digital wallet, which can then be used at any partnering business.
Donations to NGOs: customers can convert points into donations, strengthening corporate social responsibility.
To learn in detail about the capabilities of Pobuca Loyalty Marketplace, you can check here.
Benefits 
By joining Pobuca Loyalty Marketplace you can get the following benefits:
Upscaling redemption by creating Loyalty partnerships with complementary brands, incentivizing loyal customers to redeem, making them feel more satisfied and closer to your brand, as well as building a network of partners that turn unused Loyalty points into assets.
Enhancing Acquisition By Acquiring customers by being a redeem touchpoint for other Loyalty programs, creating a new revenue source by redeeming Loyalty points from partners, and strengthening relationships with complementary partners.
Wrapping up
Marketplace Loyalty programs are emerging as one of the most effective Loyalty programs, with many leading companies adopting them and becoming empowered to reward their partners and sellers in addition to their customers. 
A well-designed marketplace Loyalty program can be no less of a win-win solution for all parties, as it helps businesses partner with high-quality third-party sellers and leverages their platforms to sell their products, encouraging at the same time third-party sellers to join hands with large businesses and benefit from their Loyalty programs and attract new customers, while enabling customers to get attractive discounts and offers for further transactions as well as incentivizes them to maintain their relationship with their favorite brands.